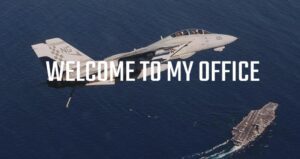 Do you have a deep understanding of how your department fits within your financial institution's business model? Do you have a good understanding of what the lending department and C-Suite goals are and how you can augment and support their missions? Do you operate under the "how can I make those I work with successful?" If you don't, there may be a problem now, or there may be problems in the near future. I was reminded of this at a recent presentation by Carey Lohrenz, the first female F-14 Tomcat pilot in the U.S. Navy. Ms. Lohrenz's book Fearless Leadership: High-Performance Lessons from the Flight Deck suggests professionals need to communicate their purpose in the overall "mission."
Communication is the key and communication means intended interactions with the teams in your organization who may not have a clue about what you can do for them. Letting your co-workers know about your talent and how they might benefit, can many times serve to empower and stimulate ideas, providing a catalyst for everyone to perform better. If those you interact with know what you're capable of and your performance goals, the possibility for everyone moving to a higher level of performance is strong. Success goals have to be shared.
A poignant quote from Ms. Lohrenz, "If you don't know what success looks like, you wait. You stop moving forward. Take action and adapt or you're putting your organization at risk." She suggests focusing on what matters most and that the 80/20 rule is good enough to take action. You will never have all the information to make perfect decisions. If you wait for the perfect scenario or the perfect time or the perfect team the likelihood of success is greatly diminished.
If you're in a bank's valuation department you may wonder how to be outstanding. You may wonder how and where you can provide added value. I suggest you look to the accounting profession for new value add ideas. After all, aren't CPA's quite similar to credentialed appraisers? To illustrate my suggestion, here's a few thoughts and possible opportunities.
Progressive accountants realized that just filing tax returns is no longer good enough. Accountants are changing the delivery of their service and their focus. Forward thinking accounting firms realize that they need to add value. These firms are broadening their offering with a significant investment in technology. So maybe progressive credit or valuation departments realize that just ordering and reviewing appraisal and environmental reports is no longer good enough. Maybe they too need to look at how to leverage technology to provide better "service".
Cloud-based solutions allow accountants to sync and download their clients' bank and credit card accounts minimizing manual data entry, reducing errors, allowing for monitoring of cash flow and identifying potential issues before they occur. Access to this data on one shared system allows accountants to discover new revenue opportunities and collaborate with their clients. So much more than just filing tax returns. How might credit and valuation professionals innovate and improve the handling of all the financial data and communication required for real estate lending?
Innovation involves a mindset adjustment. Ms. Lohrenz highlights that realism, "Negative attitude kills opportunity." Opportunity discussions for your appraisal and credit team might include:
Innovate your appraisal and environmental workflow
Automate compliance
Invest in technology to improve lender experience
Improve scope of work
Ensure the right vendors for the right task
Engagement letter consistency
The best way for the credit and valuation departments to stay relevant is to understand the changing productivity expectations. Expand what you can do and leverage it through technology creating a culture of incremental improvement. Know your purpose. Share your purpose. Don't lose sight of why you do what you do. As a pilot, you wouldn't carelessly approach a night landing on an aircraft carrier in pitching 30 to 40 foot seas. Do the same for your bank, adapt your attitude or put your department at risk.
Adapt or Put Your Department at Risk