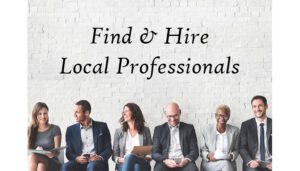 This is a question we get often. To vet or not to vet, that is the question. Of course, the answer is yes. First of all, it's required as summarized by the Federal Deposit Insurance Corp. (FDIC) in FIL-44-2008, "An institution's board of directors and senior management are ultimately responsible for managing activities conducted through third-party relationships, and identifying and controlling the risks arising from such relationships, to the same extent as if the activity were handled within the institution." Second, you always want the best quality (and licensed) talent on your approved appraiser and environmental list. It's challenging. Further challenge comes when you need professionals that are not on your approved/vetted list, a "one-off" out of area request. "We have a problem finding good experts," can be an issue for smaller financial institutions and sometimes even for larger ones. The importance of a referral network becomes apparent.
Approved vendor list management varies significantly, sometimes dictated by bank size. We have seen approved vendor lists that are voluminous with a small percentage of "actives." This lengthy list of largely unused vendors can be a tactic to reduce potential lawsuits if vendors feel they've been "taken off the list," so therefore their inclusion is perfunctory. The non-actives never receive any bids or perhaps they're pigeonholed and only receive a very narrow slice of the available pie. Having a voluminous approved vendor list can be onerous and time consuming to manage – just ensuring that all the vendor credentials are in place can take an employee weeks. Remember, banks must maintain documented policies and scope about their vendor process and the approval of such processes many times is at the board level.
This challenge is further convoluted by bank mergers. Whose list is better? Should the lists be merged? Or does the buying bank purge the purchased bank's vetted list of approved vendors? How do you handle financial institutions different grading scales (or none at all)? If an appraisal was "rejected" by a reviewer, was it a small typo or structural issues warranting significant modification?
From the bank's position, getting a vendor approved can be lengthy and many times takes board approval. Many chief appraisers and credit and environmental officers receive emails and phone calls from appraisers and environmental experts often asking the same thing. "Can I be added to your approved list? Why aren't I receiving any bids? Is there a problem with my work?"
Some bank workflow software providers offer vendors from their database of paid subscribers. The assumption being they must be "pretty good." I don't feel this is a prudent assumption. These firms are paying to be on a list, posting their service areas and qualifications. Why is this different than a Google search approach? There's no vetting, grading, just a working credit card. Is it helpful? Should vendors be rated with stars like Amazon, Yelp, movies, hotels, Uber? Should there be a standardized method of "scoring"? All good questions.
Public reporting of performance measures is increasingly the norm even in "professional services" like healthcare. The drive behind this is a desire for continuous quality improvement, and to increase accountability. In the end it seems that other professionals that you trust and have established relationships provide you the best vetted vendors – i.e. direct referrals. Utilizing workflow and vendor management web platforms to grade, track and document details about your vetted professionals will go a long way to improve and maintain your network. Reaching out to like-minded chief credit and environmental officers for vetted professionals is also sound best practices. But maybe it's time for something more.  Something different. Something more "public." Is it time for a Yelp for our industry?
How Do I Find Vetted Appraisers or Environmental Experts?