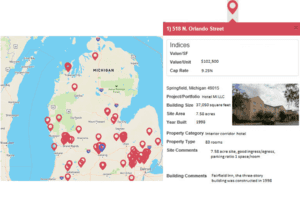 Concentration mapping is an important tool for a credit department to ascertain collateral allocation typically based on property type, location, and in some cases, the number of loans to specific borrowers. Commercial real estate (CRE) loans comprise a majority of banks loan portfolios. Significant expansion of CRE might create exposure for your bank as it reflects challenges for management to monitor and control risks.
FDIC, along with other federal agencies, published the Joint Guidance on Concentrations in Commercial Real Estate Lending, Sound Risk Management Practices back in 2006. This CRE guidance article addresses monitoring and analysis of various markets, portfolio management, credit risk rating and stress testing. CRE guidance cite impactful exposures such as total loans reported on the Report of Condition for construction, land development, and other land represent 100% or more of the institution's total capital; 300% or more of the institution's total capital, and the outstanding balance of the institution's CRE loan portfolio has increased by 50% or more during the prior 36 months.
The ability to quickly discern a bank's CRE with graphical mapping capabilities (a feature offered in YouConnect, our appraisal workflow and management system) is critical to identify the geographic dispersion of CRE loans. Visually seeing that you have for example 10 hotels in a submarket with declining job and population growth might be a prudent heads up for your credit department.
New construction can expose a bank due to numerous unknowns that come into play, unexpected construction cost increases, construction delays, completed structure different than appraisal specifications, documented pre-leasing/presales and effective marketing to facilitate sellout or lease up, to name a few. Quickly identifying the number and location of ongoing (and future) acquisition and development loans for your financial institution would be a salient risk tool. This is critical in a market with changing conditions especially if the construction window is protracted. What happens to your risk when market conditions change substantially at completion of construction as compared to loan commitment?
Concentration mapping embedded in your appraisal workflow can provide the tools to quickly identify potential risk and effectively communicate its potential impact. Identifying a strategy for particular property types in specific locations will allow your credit department to confidence provide sound data to determine if your bank should pursue additional lending opportunities, maintain the current portfolio or reduce exposure.
Many banks do not have the resources to search through hardcopy files to derive this critical CRE concentration data. Providing management real-time data is critical, especially as market conditions change. Right now most CRE markets in the US reflect strong performance, but who doesn't remember the protracted recession about 10 years ago? CRE is cyclical. Be prepared to protect your financial institution with prudent CRE risk processes.
The Value of Concentration Mapping